Holy Family!!!
Welcome to 2022, the year of Stewardship as a Way of life and Discipleship.
We began the year with our usual 21 days foundational prayers and we are grateful to God for all the wonderful works he used our ministers to accomplish. There shall be great testimonies this year.
The pandemic came in 2020 and with it came a lot of hardships but we are thankful to God for how far we have come as a Parish. Permit us to give you a brief overview of how we fared in 2021.
Spiritually we have continued to grow, with more parishioners embracing the sacraments. More parishioners are signing up for the frequent Spiritual activities including one percent Daily Bible Challenge, Know Your Faith, Retreats  and Pilgrimages, etc.
Administratively, we continue to improve on the ways we deliver our pastoral services to you. We understand that sometimes there may be hiccups, we assure you that we will continue to work on making things easier for all us.
Structurally, our church building is nearing completion. We are excited. Currently work is ongoing internally with regards to tiling and finishings. Hopefully, we will be soon looking at a befitting sound system, pews, air-conditioning systems and others.
On the Pastoral Welfare of our parishioners, working with St. Vincent De Paul, JDPC, Prison Chaplaincy and other organizations and groups in the Church, we were able to reach out to many people, providing basic social support, school fees, health bills, providing food, clothing and other supplies.
Indeed, 2021 was a great time of service. There were many things we couldn't do because many of us are not committing to service. Hence this year is "Stewardship: A Call to Discipleship".
As disciples of Christ, we are called to be Stewards (1 Peter 4:10-11). Stewardship is a way of life and, since charity begins at home, we all are expected to activate the Stewards in us. How can you get involved?
Give your 3Ts :
Time
Give a minimum of 2 hours of your time every week in service to God in our Church, Societies, and other parish activities.
Talent
Give your skills, abilities and competence in building up our Church.
Treasure
Give At least 10% of your earnings monthly to the development of the Church & the poor.
Remember, there are different kinds of gifts, but they are given to believers by the Spirit, there are different ways to serve, from the same Lord (1 Cor.12:4-5). As a family of God's people, let our light shine through active stewardship so that men can praise God, our loving Father.
 Very Rev.Fr. Melvis Mayaki
Parish Priest
Very Rev. Fr. Melvis Mayaki (Parish Priest)
Rev. Fr. Mark Okojie (Associate Priest)
Religious Sisters of Charity (RSC)
Rev. Sr. Regina Opara
Rev. Sr. Helen Eluagu
Rev. Sr. Chioma Ezeh
Rev. Sr. Beatrice Opia
Rev. Sr. Sylvia Uwalaka 
Eucharistic Heart of Jesus Sisters (EHJ)
Rev. Sr. Josephine Odorwike 
Rev. Sr. Monica O. Osevwe
 Rev. Sr. Dorothy Dangi
Rev. Sr. Justina Opakunbi
Mother Matha Onwuachi
Religious Sisters of Charity (RSC)​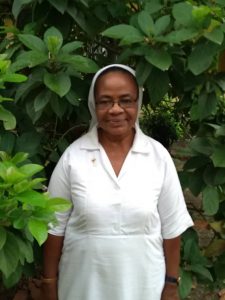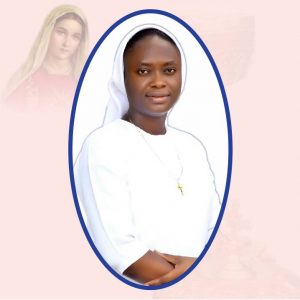 Eucharistic Heart of Jesus Sisters (EHJ)