RESURREXIT, SICUT DIXIT! ALLELUIA!
Resurrexit Sicut Dixit! He has risen as He said….
Dearly beloved in Christ, sisters and brothers, wonderful parishioners. Easter is here again: We are Easter people and Alleluia is our song!!! Easter is a season like no other; it resounds the foundation of our faith and the restoration of our relationship with God. Indeed it is a time of great rejoicing, which is why the liturgy proclaims the Exultet – one of the most beautiful hymns composed to the praise of God. It highlights the reality of God's love for us, who sent Jesus Christ to free us from the shackles of  death by rising from the dead. By His rising, darkness is vanquished, sin is washed away; heaven is wedded to earth again and the sanctifying grace which was lost in the Garden of Eden is restored to us. This is the essence of our faith.
So because of Easter, we rejoice in spite of the woeful stories of Covid-19, the worsening socio-economic realities and the dire security situation. In the midst of depressing climate in our country, we are called to rejoice that He has risen "as He said"…. and He will banish darkness forever.
May the Easter liturgy help us understand and appreciate more deeply the Paschal Mystery – the death and Rising to new life in Christ. May we all receive the gift of His Peace, a peace the world cannot give or take away from us.
This Easter, we shall welcome some of our children and adults to the Sacraments of Baptism and Holy Eucharist. If you or one of your loved ones wish to become a Catholic or return to the Sacraments, please feel free to talk to any of the Priests.
A special note of appreciation to all our volunteers, liturgical functionaries and seminarian who have given their gifts and talents throughout the Holy Week and Easter festivities.
Similarly, I want to express my unalloyed gratitude to you dear parishioners for all your wonderful support and encouragement while also imploring your continuous prayers and support towards the New Church Building Project. As we build with the Lord, may He build up our lives and families in Him; and may the joy of the Risen Lord never depart from our homes.
From all of us on the Pastoral Team- our beloved Srs, Frs Mark, Ebuka and myself, we wish all of you and your loved ones a blessed and victorious Easter!!!
Rev. Fr. Melvis Mayaki
Religious Sisters of Charity (RSC)
Rev. Sr. Regina Opara
Rev. Sr. Helen Eluagu
Rev. Sr. Chioma Ezeh
Rev. Sr. Beatrice Opia
Rev. Sr. Sylvia Uwalaka 
Eucharistic Heart of Jesus Sisters (EHJ)
Rev. Sr. Josephine Odorwike 
Rev. Sr. Monica O. Osevw
 Rev. Sr. Dorothy Dangi
Rev. Sr. Justina Opakunbi
Sisters of the Sacred Heart
Sr. Esther Egbarevba 
Sr. Monica Rowland 
Sr. Cynthia Ugbiyobo
Sr. Catherine Ndukwe
Sr. Florence Ogbudu
Religious Sisters of Charity (RSC)​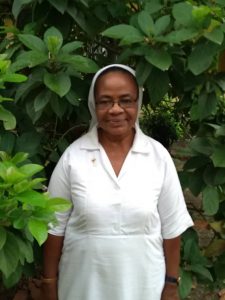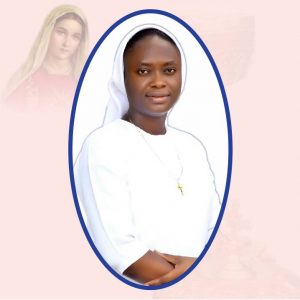 Eucharistic Heart of Jesus Sisters (EHJ)
Sisters of the Sacred Heart